If you want to study in London for any of the different international exchange programs and careers available in the UK, you can be totally assured that this city offers the best top-notch quality in education. The excellence of the many universities available in the country is wonderfully great, in fact, the excellence and quality of London universities are so good that they've been internationally acclaimed. Especially when it comes to international students who want to travel and study abroad, the UK offers the best programs and the best destination for those who want to experience a different culture, with the most wonderful opportunities that any other country won't offer.
The different Study Abroad programs in London are totally certified with top-notch quality from the students. Even so, UK natives have said that the insertion of more than 400,000 international students each year have improved their college grades and even improved their view of the world, making these programs totally useful when it comes to universal education. You can learn more about the study in the Website of HEPI – Higher Education Policy Institute.
Important Details about UK Education
UK Universities are always on the top of the university ranking polls and lists. Even so, the reputation of the many prestigious universities in the UK is just over-the-top, where many of the most famous Nobel laureates and company founders around the world have studied. From universities like Oxford, Cambridge, Imperial College London and many others, you can be totally sure that the education in the UK is one of the best in the world.
By improving critical thinking, confidence, creativity and open-mindedness, these universities have made their way into the top 20 in most worldwide rankings for universities in the world. You can see a ranking list of the best universities of 2016-2017 made by Times Higher Education – THE.
Benefits from Studying in the UK
Worldwide recognition
The recognition you can get from a UK university or any higher education institution is one of the greatest achievements anyone can long for. Some of the oldest and more prestigious universities in the world are based in the UK, like Oxford, Cambridge and The Imperial College from London.
However, there are many other universities which are also based in the UK and London, if you want to take a look at which are the most recognized institutions in the UK that offer top-quality education, you can take a look at university ranking from the highest education institutions that can award degrees in the UK.
Costs of education are lower
Many people tend to think that being prestigious and top-notch quality education make them expensive and almost impossible to pay for mid-class people. However, the higher education costs in the UK are actually lower than those from the US. Even so, the amount of time necessary to graduate from any London college will be always shorter, also helping at saving more money.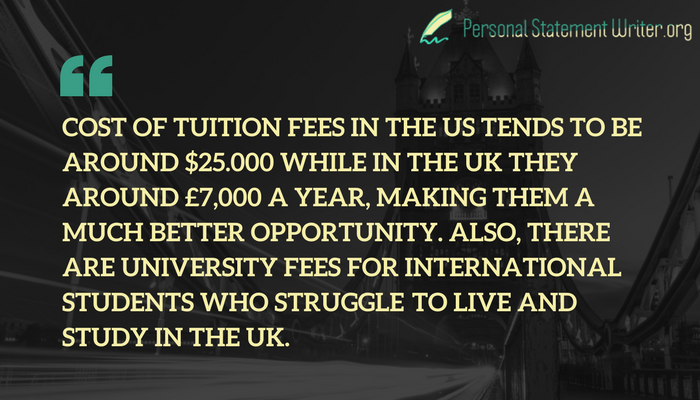 The cost of tuition fees in the US tends to be around $25.000 while in the UK they are up to £7,000 a year, making them much better opportunities. Nonetheless, there has been an increasing rate on the universities fees for an international student who have been struggling a lot to live and study in the UK at the same time. But still, the higher education fees in the UK are still lower than in the US and even Australia, according to a study made by HSBC you can take a look at here.
Teaching style in the UK
Even though we've already discussed the importance and details of the education in the UK, it is still necessary to point out that the teaching style in this place is one of the greatest in the whole world. By improving the debating skills and with more social interactions throughout the whole career, many programs combine both lectures, practical learning, and seminars in order to deliver a better academic experience and form wonderful graduates.
Flexibility and versatility
Thanks to many universities that offer different programs, going to the UK to study is one of the best and easiest ways to achieve a higher education. Depending on the student's interests, there will be many chances to become a college graduate in the UK, with careers in electronics, engineering, software, and many others plus some pretty interesting courses that are totally original.
Also, in the UK you will be able to find about some courses and college studies that offer students the opportunity to study part-time and even from home. But it all depends on the type of career and the university by itself.

More opportunities for work
On the other hand, when it comes to working, the UK is one of the best countries to do it. In London, you can work up to 20 hours a week if you are an international student, and full-time if you get to graduate or when school is out. However, this is something that can change due to different things, so if you want to go to London to work and study, you should know that the first 6-month period you may not be able to work.
But after that there's an incredible amount of opportunities to work, even so, if you get to graduate from a good university, your chances of finding good work are immense, so we totally recommend you to not lose the opportunity if you get the chance.
Loans and scholarships
When studying, many students face a common problem that is financing. However, in the UK there are various opportunities to get a scholarships or loans that can make students much more relieved of their financing situation.
An open door to Europe
Now, when you decide to go to the UK to study, for example, international students will have it much easier to access and go to other countries if they want to. With a proper student visa and enough time to get out and travel, anyone can get into an airplane and fly to Italy, for example, and in just two hours they can be in Rome without any problem.
Multicultural society
To study in London for a year, you will be able to meet a lot of people from every background. From Latin Americans to Africans and even Asian people, other Europeans, and North Americans, as the study abroad programs in London tend to bring people from all sorts and all background from across the world. This will make the experience much richer in knowledge and easier to digest.
Best Universities in the UK
The University of Oxford has always been one of the most prestigious universities in the world. With more than 44 colleges and more than 20,000 students per year, this university is one of the best in the world.
This university boasts more than 100 libraries and offers the best education plans available in the UK. Plus, many cultural events, their own college buildings and accommodations for students and even a Museum of Natural History plus the Museum of the History of Science.
Studying in Oxford assures post-graduate employment, where 95% of graduates achieve employment and further studies in less than 6 months.
Just like Oxford University, Cambridge is one of the oldest and most prestigious universities in the world. Due to the high amount of students that it boasts yearly, the university is one of the biggest with more than 100 academic departments and 31 colleges.
However, this university is mainly known for the excellence education in mathematics, where most of the famous scientists in history have studied. Even so, this university has been the education center of more than 92 Nobel Laureates.
Cambridge has been the education center of more than 10,000 famous actors, politicians, religious figures, sportsmen, and sportswomen plus many other cultural figures across the world, making it a really important and prestigious center in the world.
The Imperial College London admission is one of the hardest in the world, as this university is often ranked as one of the best for science, engineering, business, medicine, and technology. With more than 14,700 students and with one of the largest international list, this university boasts the biggest multicultural alumni in the world.
This university has been the education house for many field medalists, Nobel prizewinner, politicians, successful businessmen and with the most innovative students in the world who have made their way into the industry flawlessly.
However, to get a chance to be in this university, a great Imperial College London personal statement is totally necessary, as it is always very difficult to be accepted due to the huge amount of people who want to study there from around the world.
Take a look at this website from the UK Council for International Students Affair – UKCISA with all the latest studies and research on International students in the UK.
Requirements for International Students in the UK
The process of Imperial College London admissions is one of the most difficult processes in the world for international students to get in. Due to how difficult it is, it is utterly important that if anyone wants to study in this university, he must follow certain rules:
Choose the course
Depending on the course and career the student wants to get in for, the requirements are totally different. However, it is important that the student chooses wisely as depending on the course he decides to apply for, he will have the minimum grades required depending on the subject. For example, if he decided to study mathematics, he has to comply with the minimum grade required for his previous studies, on high school or college.
Register and apply
As said before, it all depends on the kind of subjects and type of education the student wants to get. The requirements are totally different, but it is different for undergraduates and postgraduates.
Undergraduates will need to comply with the minimum grades from high school depending on the subject of their decided course. On the other hand, postgraduates will need to have at least a BA in the decided Ph.D. or Masters they want to apply for.
English proficiency
English proficiency Tests are a must when it comes to studying in the UK, especially in the Imperial London College. As it will be totally necessary to communicate perfectly in English, a student who doesn't comply with this requirement is more likely to get rejected from the university.
The most common tests to prove the English proficiency of a student are the IELTS, TOEFL and the PTE.
Funding
Even though the university offers many opportunities to get a scholarship or to ask for a loan, it is utterly important that the person can pay all tuition fees and their year of studies. However, this requirement is not as important as others, but many students tend to get rejected if they don't offer certainty on their payment and economic options.
Student visa
A Student Visa is of most important to be accepted in the Imperial College London admissions. I the student doesn't comply with this requirement it is very likely that their application will be rejected at the moment of acceptance. Even though the process of admission won't care about it, the student must have a student VISA if he wants to study in the UK.
An Imperial College London personal statement
The personal statement for the Imperial College London is one of the most important requirements. This will tell the university how much you can offer to the institution and how this education will make you a better part of society. Even so, take a look further on how to properly write a personal statement.

How to Properly Write an Imperial College London Personal Statement
If you want to be selected within the Imperial College London admissions as one of the next lucky students, you will have to follow some rules in writing personal statement title in order to make a better impression.
What you need to write:
Current studies
You will need to tell the admission committee how your current studies affect and relate with what you're applying for. Even so, you will have to mention all the subject areas you have knowledge in and all those technical skills you have acquired during your academic life or even working life if you are applying for a Ph.D. or a Masters. Also, any current project or activity that are doing related to the subject area of study is totally necessary and important to include in this statement.
Reasons
If you choose to get into a Master's or a PhD, you will have to show and tell the reasons on why you are choosing this university and why you think it is the best opportunity for you. Even when you are just an undergraduate applicant, telling the main reasons of your choosing for the career you are applying for is really important, always making it appealable and demonstrative of your abilities, making it certain that you actually know what you want.
Past experience
Show the admission committee what you have done in the past that affects the way you study. If you're applying for a master's or a Ph.D., it is important that you tell your abilities to fit in different environments, plus the success you've had in your career. Even so, if your experience doesn't add up with what you're applying for, you can always take your moment to tell about all transferable skills that can come from your experience to the career.
Concluding paragraph
At the end of your personal statement, you should summarize your interests in the career or area you're applying for and all skills and experiences you've had in the past that can make a better applicant for the university. Even so, it is always important to point out your long-term goals and career path you're trying to construct for yourself.
For more tips and help with the Imperial College London Personal statement, you can read the PDF Guide on Writing a Personal Statement from the University itself.
Do You Need Help with Your London Personal Statement
Having a degree from one of the many London universities is often far more desirable than many other universities around the globe. London has a reputation for providing unparalleled education from some of the oldest institutions. With more than 40 different universities to choose from for your studies you can cover just about every possible subject area.
Getting accepted however is not always going to be easy. Places are fiercely fought over and your application will need to make you stand out if you are going to be successful. The most important part of your application in admission in London university will be your personal statement. Often this is the only thing that can provide any help for the committee trying to choose between different applicants.
Tips for Writing Your Personal Statement for Admission in London University
No matter which London university you are applying to or what subject you will need to provide a personal statement that is capable of showing you in the best possible light. This statement should be carefully tailored to the application that you are making if you want to maximize your chances of success. It also needs to be perfectly written in an engaging style.
The following professional writing tips for your personal statement writing will help to ensure that your application is done perfectly:
An opening line should always be attention grabbing; use an intriguing personal anecdote that is relevant and interesting enough.
Provide clear flow and write more like a story to keep their attention. Don't make your statement read like a list of unrelated facts.
Never repeat information that you have already included within your application elsewhere.
Write about you; a personal statement should not discuss others and never just copy an example of a personal statement you found on the Internet.
Take a positive view on everything; never say why you are not doing something.
Your language must always be simple and easy to understand by everyone; do not use any form of slang or acronyms. Also, don't be clever using fancy words from the thesaurus.
Be concise; never use more words than you need to when writing your statement.
If it is not totally relevant to your application do not include it.
Proofread very carefully when you finish your writing to avoid all errors.
We Provide Support Through Qualified Writers

To write a personal statement for admission to London based universities is not a simple task and you should not trust an unproven writer. We provide you with writers that have the specific skills, experience and qualifications to ensure that they can provide you with a perfectly written statement that is going to get you noticed. With more than 5 years in business we have built up a pool of over 200 trusted writers to call on so that you can be provided with a real expert:
Highly experienced at writing personal statements for your educational level
Holder of a postgraduate degree relevant to the subject area of your application
A full understanding of application requirements and expectations
Excellent English language skills
Read about 5 thing that will change the way you think about Saudi Arabia application essay!
We Guarantee the Help We Provide for Your London University Personal Statement
Through us, you will receive all of the help that you need to submit a perfectly written Germany application letter that you will be proud to call your own. We work with you until you are fully satisfied with everything that we provide for you. Through us you get the best writers and editors as well as all of the following benefits:
Highly affordable and totally confidential personal statement services
Direct contact with your assigned writer
Unlimited revisions on all work provided
Copying free statements with a free plagiarism report
Proofreading to the highest standards by an expert
On time delivery even for a short lead time
Guaranteed satisfaction with our services or your money refunded
Choose Your Best Option
Even though choosing a career is not an easy task, international students will have to choose even more wisely than any other student as studying abroad is not something easy to do. Even so, a number of opportunities that are offered in the UK to study are immense, so we recommend anyone to take a clear look at what can be offered to them.
However, it all depends on the preferred field you want to study in London for, as it will depend on that the availability and difficulty on being admitted in any university you choose.
If you have any problem with writing your personal statement which is one of the most important requirements for international students in UK, don't hesitate in contacting us!