Cyber security comprises of a body of technologies, practice, and processes created to protect data, programs, computers, and networks from damage, attack, or unauthorized access. Cyber security elements include information security, application security, network security, operational security, business continuity planning/disaster recovery, as well as end-user education.
Considering the sensitive nature of this field of study, the admission rules may be even stricter, which is why you should ensure your cyber security personal statement will help increase your chances of being admitted to this course of study. If you're applying to Princeton University, learn Princeton University personal statement guidelines in the first place.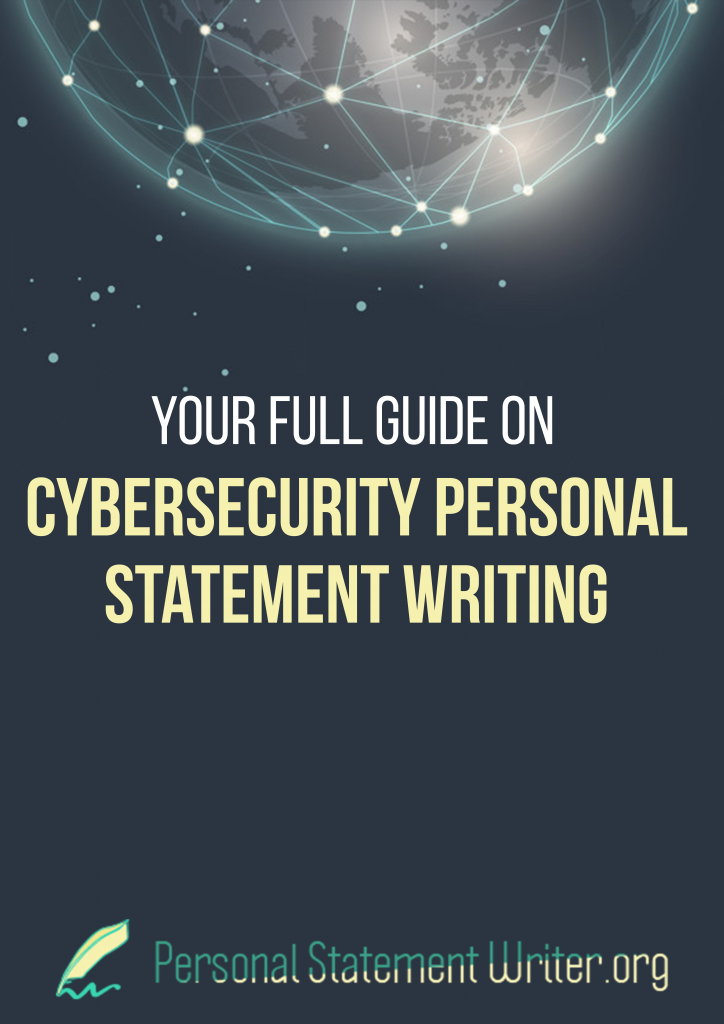 What Is the Required Length for Your Cyber Security PS?
Whether you want to write a cyber security master document or the undergraduate PS, it is important to know and stick to the required length. The general rule when it comes to PS (Personal Statement) is about 600 to 800 words, which is equal to about 1-2 pages. And, the best way to stick to the PS average length is to avoid unnecessary rambling and include only the main highlights that will attract the attention of the admission committee. So, keep it short, simple, but rich.
Writing Your Cyber Security PS – What Should You Include?
Whether you're seeking help on how to write a personal statement for a cyber security major or just any cyber security program, it is important to know what you should include increasing your chances of success.
While there is no rule of thumb or a strictly defined guideline for writing a PS, experts point to some features as being winning elements of a PA.
Some of these features include:
Your interests for the course. The admission board is looking out for well-expressed interest in the career you've decided to pursue. You should write in such a way to demonstrate your enthusiasm about the program, beyond doubt. This will include your efforts so far in pursuing this interest up to this point of applying to study the course.
Include your long-term plan. Also, when writing an application essay for cybersecurity & leadership admissions, tell the admission committee what your long-term plan for pursuing the course is. Be as specific as possible. For instance, your long-term plan could be to ultimately eliminate cyber hacking, theft, unauthorized access, and other cyber-security related issues. You may include how you intend to achieve your long-term goal and how the institution could be of help.
Relevant experience. Include your experience, research or skill that is relevant to cyber security and computer science. This is also a great winning feature that should be seen in a well-written PS. Relevant experience may include previous computer science and cyber security programs, internship, and more.
What you've done outside of the classroom. You should go beyond listing your classroom achievements and include other relevant achievements you've garnered externally. This may include relevant extracurricular activities and community projects.
How to Make Your Admission Successful
You should improve your chances of making your admission successful. How? Find out the specific requirements for the institution of your choice so that you will not omit anything. And of course, one of such important requirements is your application essay. So, whether it is a personal statement for master application on computer networking cyber security or first-degree personal statement, ensure you create an attention-getting PS. A lot of students prefer to leverage personal essay help in writing a success-prone PA, which in turn increases their chances of successful admission.
Top 5 Cyber Security Programs
Our professional writing service is here to help you with your application!
Why You Should Use Professional Writing Services
If you're wondering why many people prefer to use professional services in writing their resume cyber security personal statement or personal statement for master degree, here are some good reasons to join the bandwagon:
Well researched PS – professionals embark on time-consuming and rigorous research to ensure they write the best quality cyber security statement of purpose that the admission committee is looking for
It's time-saving
It's cost-effective
You will earn all the credit as the writer
More importantly, you will increase your chances of gaining admission to study your dream course in your dream institution
Find out how to write a proper occupational therapy personal statement and get accepted!
Indeed, it pays to leverage professional service in writing your statement of purpose for information security and just any type of personal statement.
Our team of personal statement writers will help you with:
Computer science personal statement;
Computer engineering personal statement;
MSC cyber security personal statement;
Computer security and forensics personal statement;
Computer network security personal statement.
Get the professional help that you need for your cyber security personal statement right here.