Studying for a DMD or DDS degree can be very demanding and getting accepted to study even harder. Every year many applicants to dentistry courses are disappointed as there are just not enough places to cope with the demand. So if you want to be assured of a place you will need to ensure that your personal statement for dental school can really make you stand out from the other applicants. The reason for this is that many of the other applicants are going to be similarly qualified to you and your personal statement will often be the only way that you have to get yourself noticed.
But writing that outstanding personal statement is never easy. Many applicants will spend many weeks working on their applications and will never be happy with what they produce. This is why you will want to follow our advice and use our writing tips or even our superior writing services for your dental school application. Need help with your nursing or personal statement for graphic design? See what our services can offer you!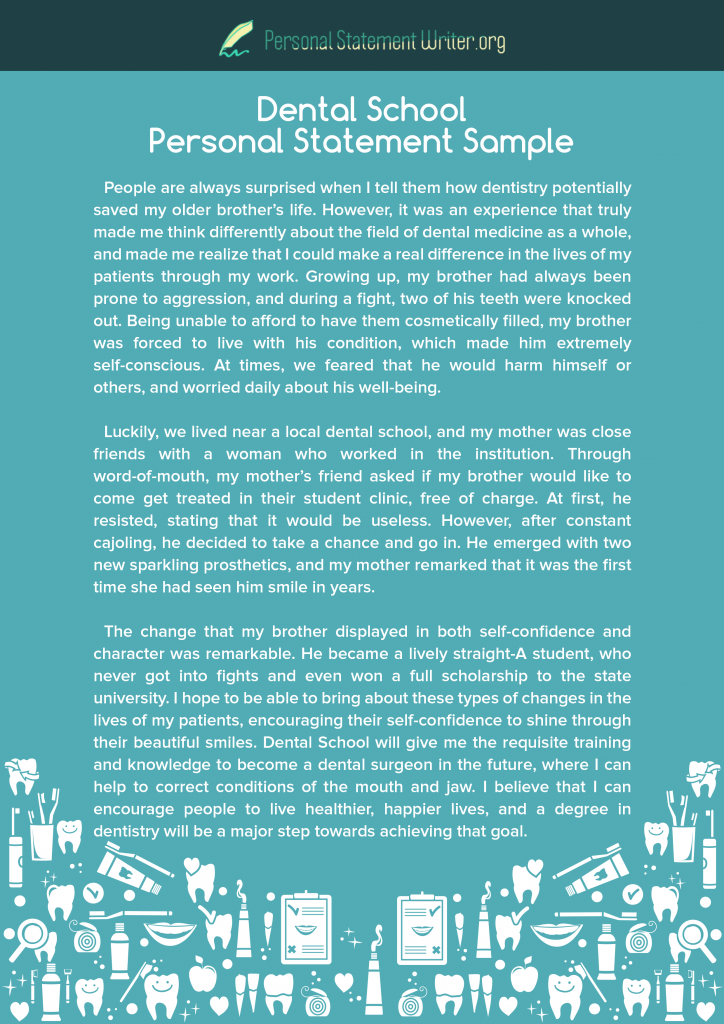 How to Write the Best Personal Statement Dental School
Your personal statement for dentistry should never be rushed if you want to have any chance at all of gaining the place that you are targeting. Nor should you just provide the committee with just a generic sounding statement. Your personal statement should always be crafted and tailored to meet the specific requirements of the program that you want to be accepted onto.
The following tips and writing hints will help you to ensure that your writing will get you noticed and boost your chances of being accepted:
Look for a personal statement example for the chosen position to have a better idea of what is required. But never just simply copy it as it will be your fatal mistake.
Always open with an interesting hook; your opening line must make the reader want to continue reading.
Maintain the reader's interest by providing clear and logical flow like a story from the start through to the conclusion of your statement.
Write about yourself at all times; a personal statement is not about others.
Cover what the program wants to know about you.
Typically this will cover all of the following:
Why is it that you want to study dentistry?
What actions have you already taken such as shadowing a practicing dentist?
Where do you hope your career will take you?
Why are you applying to this specific school?
What skills do you possess that are needed for this program?
Always use your own words; avoid quotations and the use of clichés.
Never use acronyms, slang or overly complicated words.
Write concisely and to the point always.
Never write about anything that is not relevant to your application.
Always be truthful within your statement and do not exaggerate.
Always write positively.
Always proofread to ensure that there are no errors in your writing.
Personal Statement for Dental School Writing Tips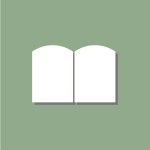 Professional consultants and writers are always ready to help out when it comes to figuring out what goes into that dental personal statement. Of course, some students might just want their existing dentistry personal statement pages edited and they're welcome to make a request as well. Some medical schools are more specific and picky than others. Each one also has its own traditions that kind of factor into how every different type of personal statement for dental school gets graded at that specific institution of higher learning.
Sometimes the actual writing has more to do with the person than with dentistry. This is because some administrators are concerned about the content of a person's character. They want to make sure that future medics have a high moral outlook so that they are able to perform their duties in a noble fashion. This is particularly important in fields like that of dentistry to say the very least. Naturally, it goes without saying that this is for obvious reasons considering the tools dentists work with on a daily basis.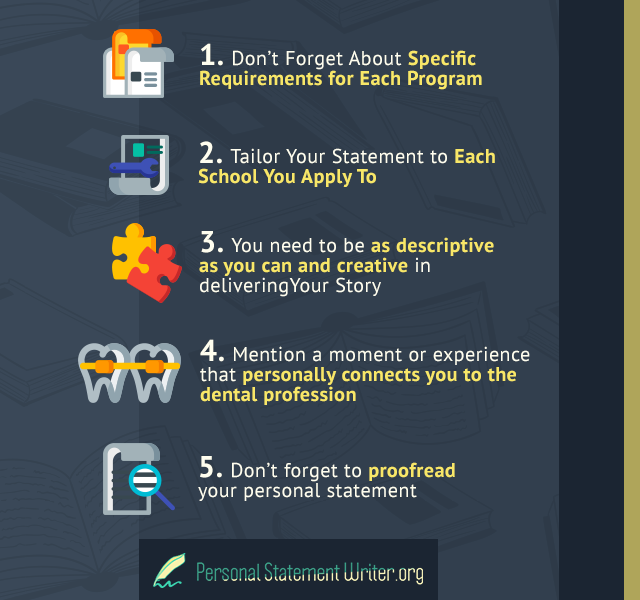 Finishing the Dental Personal Statement
Our service helps students get into their programs by hooking them up with an efficient dental personal statement that fits their specific needs. Every single statement we provide, whether it be medical residency personal statement or Harvard personal statement, is individually written for the applicant in question. We don't reuse content or anything like that, which means that students can really trust what they get back. If they were concerned about needing a number of individual statements we can always take this on as well.
Are you running out of dental application personal statement ideas? This is not unusual given that it's a bit difficult to find a good start for your statement especially when you're thinking of how to make yours stand out. If you want to get your creative juices flowing, it's a good idea to review samples of personal statement online. This way, you will know what others are writing about and you can use them as guides when writing and editing your personal statement. If you need some help you can always come to us to give you professional assistance.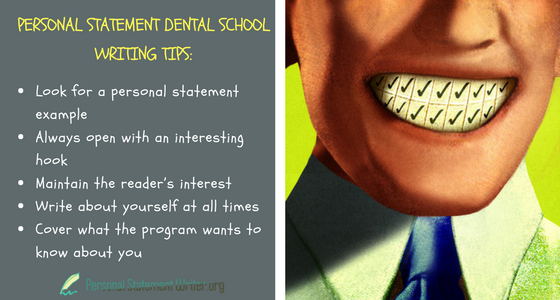 Advice on Personal Statement Ideas
If you are looking for ideas for dental residency personal statement our writers can provide you with some helpful advice. For starters, if you want to grab the attention of your reader you need to make your introduction interesting. You can do this by using a hook to capture their interest. This can be in the form of a quote, anecdote or perhaps a personal experience. Once you've come up with a good intro, make sure that the following paragraphs are related to your intro not to mention the course you want to take up. Don't jump from one idea to the next because it will confuse your readers.
Expert Ideas for a Personal Statement
When learning how to write a personal statement essay you need to review samples so you can get an idea of how others have developed their statement. Our writing company has several samples on hand that you can use as your guide or at least make use of the ideas that we present when writing yours. If you are having a hard time developing your personal statement, our writers are more than happy to provide you with a little help.
Top 5 Universities with Dental Programs
Our Staff Are Qualified to Help with Your Dental School Application
While there are many writing services out there you are not going to find many that will provide you with the level of support that our experts provide. We know that to write an outstanding personal statement requires a huge amount of experience and this is why we can provide the best help.
We have a pool of over 200 experts to call from ensuring that you will always work with a writer that is:
Highly experienced at writing dental personal statements
Fully qualified with a relevant postgraduate degree
A full understanding of the application process and what the committee is looking for
A fluent English speaker

We Offer Guaranteed Help with Your Personal Statement for Dentistry School
We always work with you directly to ensure that you will get a personal statement that will fully reflect your abilities and ambition while reflecting the specific needs of the program that you are applying to. Through us, you will always be fully satisfied.
We achieve full satisfaction by providing the best staff and all of the following advantages:
Around the clock support and easy to access ordering
Direct communication with our staff
Unlimited revisions until you are fully satisfied
Pricing that you will find hard to beat for the quality provided
Confidential services at all times
Copying free statements with a free plagiarism report
Error-free writing and proofreading by an expert
Guaranteed satisfaction or your money back
Making sure that everything is right when it comes time to submit a personal statement for dental school is very important. Applicants are judged based on their statements, and indeed some have even suggested that they are unfairly judged since they're sometimes considered more on what's written than on hard facts. This is why it's always important to ensure that the statement being submitted is a good one. Otherwise, a student might not get the result they were looking for.
Get the Best Personal Statement Today
There is no need for you to worry about coming up with dental school essay ideas especially when we can help you develop the best statement there is. You only need to send your order to us and we'll make sure that all of your requests will be accommodated by the writer assigned to you.
For a dental school personal statement that is capable of making you stand out from the crowd just contact our highly qualified and experienced staff here today!