Click here to learn all information you need to get a place at your desired university!
HKU
HKUST
CUHK
PolyU
CityU
Personal Statement Writing Service in Hong Kong
For students in Hong Kong wanting to study at a university in another country, one of the application requirements will be a personal statement (as well as for applicants in Greece, for instance, – a Greece personal statement). University admissions use these essays as one way to determine the strength of commitment an applicant has to their chosen course of study. You can use the personal essay to convince admissions that you have the desire and ability to do well in the course you have chosen.
The statement university applicants write should address 3 questions (like HKUST personal statement, for instance), no matter whether you are applying for medical, law, psychology or MBA degree. Those 3 questions are:
Why do you want to study this subject?
What qualities and skills do you have that make you suitable for this course?
What are your future career plans in the field?
Answering these 3 questions in an original and interesting way is one key to being accepted into a program. The more creativity you will add to your draft, the higher are the chances to get accepted.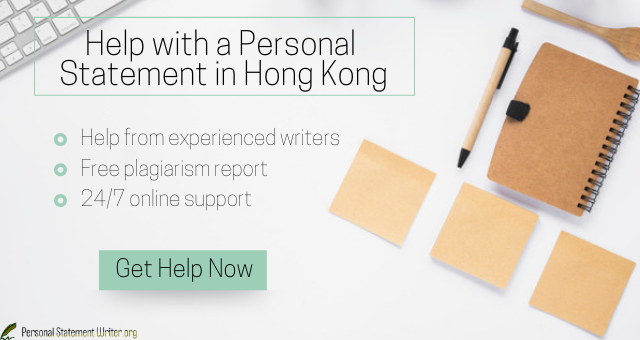 Tips for Writing a Personal Statement Hong Kong Applicants Can Use
Whether it's a statement of purpose for Masters degree programs in the USA or answer to UCAS application prompt for undergraduate studies in the UK, there are some general guidelines that, if followed, can help when writing application essays. Some of these are shown here:
Write in a clear and concise style. Avoid using long flowery statements. Short sentences that clearly make your points are best.
Avoid using clichés. Also, avoid using openings such as "Every since I was a young child" or "For as long as I can remember".
Display your enthusiasm for the subject and when possible use examples that show your enthusiasm and interest.
Don't use generalizations. Always be specific and back up statements with examples that support what you say.
Proofread for spelling and grammatical errors. They are unacceptable at the university level.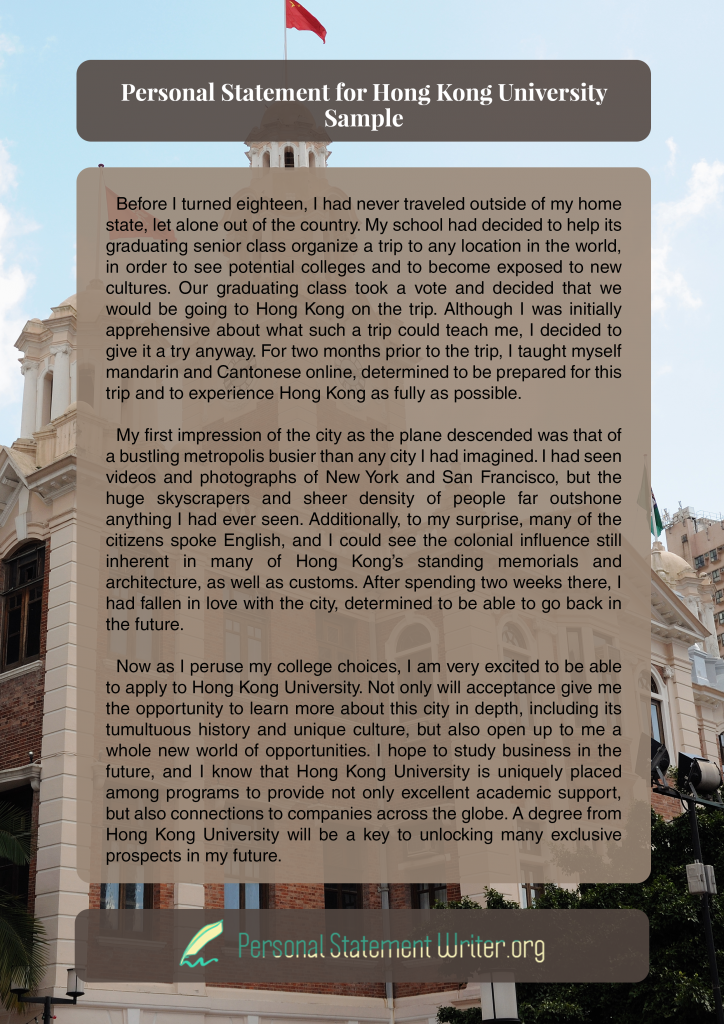 If you are worried about writing your personal statement you can get help from our personal statement writing service.
Top 5 Universities in Hong Kong
To become a part of the school, there are admission requirements you need to know and complete so that you will be eligible for the application and that you can increase your chances to succeed.
Application requirements
Application for the September 2018 admission is already open. The main round of the application will be closed 12:00 noon, November 16, 2017.
For an application to be considered, applicants need to satisfy the program specific requirements and university entrance requirements.
Applicants must have excellent examination scores.
Applicants need to provide their university's prediction of their grades.
The program takes into account applicants referee's report and personal statement.
Applicants must submit evidence of their English language ability and proficiency.
Applicants need to submit evidence of their second language ability, but not necessarily Chinese.
Admission process
Create an online application account
Complete the online application form
Pay the application fees
Print the final report
Submit online application
Deadline
November 16, 2017 for main round application.
The Hong Kong University of Science and Technology (HKUST)
Admission requirements
Local and foreign students overseas applying at the school need to be a graduate of high school as well as satisfy the general admission requirements, school specific requirements and English language requirement.
High school graduate
SAT score of 1290 or better or SAT reasoning test with combined score of 1800 or higher or ACT Plus Writing ACT with a composite score of 27 or higher
SAT subject tests, wherein each have a score of 600 or better
American College Board Advanced Placement in 3 subjects, wherein each subject have a 3 score or higher
Application process
Completed application form
Submit copied of national ID card or travel document
Submit public exam results certificates
Submit university reports from grade 10 onwards
Proofs and certificate for awards and prizes
Nomination of academic referee
Submit resume or CV (optional)
An application should be submitted with HK$450 application fee to be considered.
Important application dates
2017
Sep 15: Sign up the online application form.
November 15: Early round deadline
Late December: Receipt of offers
2018
January 05: Main round application deadline
February onwards: Main round offers announcement
March 31: Late round applicant deadline – only when vacancies these applications will be considered
The Chinese University of Hong Kong (CUHK)
In order for applications to be processed, the applicant must ensure that they fully completed as well as uploaded all documents needed on time.
Application requirements
Photocopy of applicant's Hong Kong ID, entry permit, passport or dependent visa: It is only used for verification purpose, and it will be deleted after the purpose has been served.
Copies of applicant's academic transcripts as well as public examination results, together with other credentials, if applicable:
High school reports, graduation certificate, transcripts, diploma
Sub-degree transcripts or diploma as well as grad certificate
Degree certificate or university transcripts
Result slip of public examinations, such as HKALE, HKCEE, SAT, IB, GCE, ACT, AP, IGCSE, and others.
Applicants must submit Chinese and English language test results such as IELTS, TOEFL, and others.
Certificate in support of academic or professional achievements
Academic referee recommendation
Admission process
Check important application dates.
Remember that only one application is needed. Don't submit a separate application for the next rounds.
You must pay for the first installment HK$10,000. Then, complete any acceptance procedures via the specified dates. Or else, the application will be void.
The completed form should be submitted online, together with all the admission requirements required.
Visa only system: Applicants can submit their 3 referee's details and check referee submission status.
By hard copy: Applicants need to submit the confidential recommendation form.
Application deadline
Advance Offer Deadline: November 15, 2017
Regular Round Deadline: January 3, 2018
The Hong Kong Polytechnic University
Application requirements
To be admitted to the doctoral degree program, applicants must need to possess a master's degree. For postgraduate or master's degree, they should possess a bachelor's degree from a university that is recognized by the institution.
Applicants must submit TOEFL score of 80 four internet-based or 55 for paper-based, together with a band score of 6 in ILETS.
Application process
Applicants will be considered on basis of details, such as professional qualifications, work experience, and academic achievements. Applicants are required to attend a test or interview. For departments, they consider applications on a rolling basis until all slots are being filled. To secure a slot, it is advisable for applicants to apply as soon as possible before the submission deadline.
Application deadline
November 24, 2017
Application requirements
English Requirements: Submit proof of language proficiency, which varies from the country of origin. Check here for complete details.
Submit an application on or before the deadline. The application starts September 28, 2017, and the early application deadline is on November 15, 2017. Refer to the program list on this page for deadlines per each.
You may also download programme information.
Application process
Submit a direct application.
Check entrance requirements.
Declare non-local or local status.
Complete all required sections as well as upload supporting documents.
Pay the application fee.
Check application status.
Deadline
Application for government-funded associate degree and bachelor's degree programs as well as applications for non-local applicants bachelor's degree programs are accepted from September 18 onwards.
Full Application Help in Hong Kong
The personal statement is an important part of the application process and one that many applicants have trouble with. We know this, and personal statement service we offer provides writing and editing help at any academic level. Furthermore, we offer admission essay, letter of recommendation, resume, scholarship essay and waiver letters writing & editing services. Our writers are skilled professionals with extensive experience writing personal statements.

Using our service includes the following benefits:
The best editing on every order we provide
Guarantees of providing the document that meets all of your requirements
Easy online order and payment process
100% customer confidentiality
If you are worried about writing your Honk Kong personal statement, contact us for professional help that will put your worries to rest!