Writing Harvard Resume for Undergraduate Programs

The beauty of joining an Ivy League university cannot be downplayed. Just imagine it; the spotlight shining on you, the pride you'll bring to your family, and the ability to confidently chase your dreams in one of the finest institutions around the world! We're talking specifically about Harvard. Wouldn't it be great to have an awesome Harvard resume that will speak volumes about the amazing student that you are? Boy, if only all of us had the gift and wizardry to pin down what we have to offer with ease! Unfortunately, that's not the case. And this is why we developed our essential online service that will guide you in creating a great Harvard personal statement that will put you miles above the competition.


Applying for the Visiting Undergraduate Program
Before we familiarize you with the particulars of our resume Harvard service, do you know that Harvard offers an extensive visiting undergraduate program? Pretty awesome right? In fact, you get to spend a whole year or term as a visiting undergraduate student; where you can gain plenty of insight on how the institution operates. Perhaps even pitch some of these best practices to your current university once your return!
You can consider applying for this program if you match some of the following factors;
You are currently enrolled as a full-time student in the undergraduate level in a university in the U.S. or abroad.
Have impressive grades and a great academic record in the current university that you are enrolled to.
What's even great is that during your stay as a student, you will be linked to advisers who will assist you by providing extensive orientation once you arrive, as well as guide you with all the particulars during the program's duration.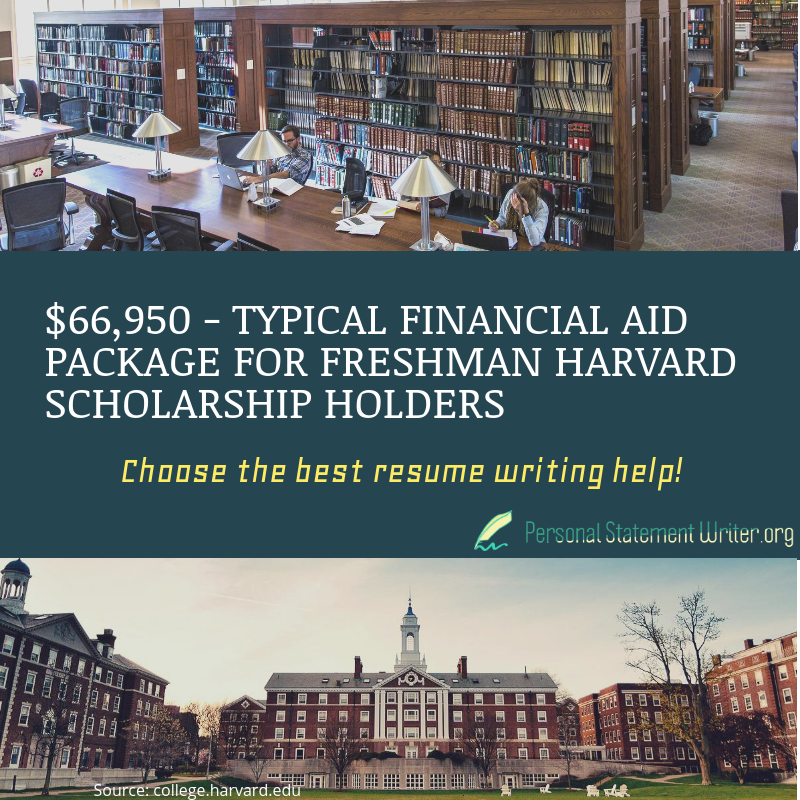 Application Requirements for Harvard
There are quite a number of requirements you need to adhere to in order to successfully apply for a position in such a prestigious institution like Harvard. We are going to have a look at the Visiting Undergraduate required documents as well as other application requirements that need to be submitted. They are as follows:
Visiting undergraduate applicants – For visiting undergraduate applicants, you need to have the following:
Presence of a VUS application
$75 application fee
An effective and tentative study plan
TOEFL in the event that English is not your native language
Need to have a Statement of Purpose
Letter of Permission from your Dean
A letter of recommendation from your Faculty
Your resume together with your curriculum vitae
An official transcript of your high school results
An official transcript of your university results.
Freshman applications

– For undergraduate programs, the following factors must be met;
A universal college application, a coalition application, or a common application.
College questions based on Harvard of the aforementioned applications
$75 fee though you can alternatively request a fee waiver if unable to pay
Presence of a new SAT in writing, old SAT, as well as ACT in writing
Subjects Tests of 2 SATS, though not required for applicants with financial hardships
A detailed high school transcript as well as your school report card
A report from your teacher
School reports both for Mid-year as well as final school year
Transfer applicants

– For those going for the transfer application, you need to have met the following factors:
A universal application, a coalition application, as well as common application
College questions based on Harvard of the aforementioned applications
$75 fee though you can alternatively request a fee waiver if unable to pay
Presence of a new SAT in writing, old SAT, as well as ACT in writing
TOEFL- In the event that you did not attend high school in an English-based institution or in the United States
A report presented either by the Dean or Registrar of your institution
Your college/ university transcript
High School transcript
Once you have achieved the aforementioned and successfully applied to the institution, all you need to do is wait for that letter carrying your acceptance requirements and you're good to go (to Harvard, of course!).
How Do You Write a Great Harvard Resume?
The art of Harvard graduate resume writing has eluded many a student for decades. Perhaps it's the subtleness required during the writing process that makes it a thorn in the side for many? But let's face the facts; you have to present your Harvard business school resume as a marketing tool else you will forever be doomed with replies such as 'we're sorry' or 'unfortunately.' In fact, we have developed effective guidelines to help you craft the perfect resume as detailed below.
Doesn't matter if you're penning a Harvard OCS resume or crafting a Harvard MBA resume, these tips will definitely be of help:
First things first, you need to detail all the work experience that you've ever had since high school, not forgetting your extracurricular activities as well as interests and hobbies. Here, make sure your mention important factors such as your primary responsibilities as well as the skills that you developed along the way.
When it comes to length, it's always advisable to keep it to one page only allowing exceptions in situations such as:
You had 5 years of work experience prior to applying for Harvard law school resume
Are applying for a fellowship program and will be writing a personal statement for university admission
Are applying for an international program
A wide list of relevant publications is under your belt
Onto the format, you need to ensure that your resume is readable as well as scannable; especially towards the left-hand margin.
The tabs and margins of your resume also need to be consistent. Don't use different font sizes, and make sure there are no typos present. You also need to put the names of your former employees in bold or in caps to highlight your work experience at first glance.
Lastly, save a copy of your resume and always ensure that you update it with every work experience and skill that you gain. Remember, your resume is a work in progress.

Hopefully, these few tips will help you gain traction in writing your Harvard university resume, CV or Harvard personal statement once you start applying. However, knowing the quagmire that students go through to craft the perfect Harvard business resume, we additionally offer our writing assistance handled by professional writers to make the application process a walk in the park for you. So perhaps you do not have the wit and words of the legendary Thomas Wolfe; relax, it's not the end of the world. Get in touch with us today and let us help you actualize your dream of joining the best business and law school in the world!
So what are you waiting for? Contact us now for a great Harvard resume and we'll make it happen!