Do You Need Help with Your Graphic Design Personal Statement?
Getting a job as a graphic designer can be very rewarding with median pay hitting over $44,000 a year. This is a growing industry that is always looking for new recruits; however first you need to get your qualifications. With a huge amount of competition for some of the better courses it can be very hard work to get accepted.
This is where your personal statement for graphic design comes in; this your chance to make yourself really stand out from the many other applicants. A well written statement will often be the very deciding point when it comes time for the committee to make their selections. The problem is that writing that perfect and attention grabbing personal statement is never easy. Our superior tips and writing services however can help you to ensure that you will always submit a well written personal statement for your graphic design application that will make you stand out.
Tips for Writing Personal Statement Graphic Design

Many students fail to invest the time and energy required into writing their personal statement thinking that their grades will carry them. However, the likelihood is that many of the other applicants are going to have very similar grades and the committee will be looking at your personal statements to tell you apart. Therefore you will need to ensure that you put a lot of work into ensuring that your statement covers everything that they will be looking for.
The following are some of professional writing tips for your personal statement:
Always write your personal statement specifically for each place you apply to. Look through some good personal statement examples connected to the same field to get a better idea of what is required.
Open with an attention-grabbing hook, preferably a relevant and interesting personal anecdote.
Always ensure that your statement flows well from start to finish; it should read like a story not like your resume.
Cover all of the things that the reader will want to know about you:
Why is it that you want to study graphic design?
What have you already done to pursue your interests in this area?
Where do you see yourself in 5 or 10 years?
What skills do you have that will help you in this area?
Why are you applying to this specific institution?
Avoid the use of clichés within your writing at all times.
Never repeat information that is included in other parts of your application.
Be concise in how you write and don't use filler.
Be relevant; never use anything that does not directly help you win a place.
Avoid language that is confusing or difficult to understand; don't use acronyms or slang.
Never use humor as it will not impress everyone.
Always be truthful and honest in what you write.
Carefully proofread and edit your work to avoid even the smallest errors.
Check out 5 tips on how to improve your London personal statement!
Here Are Top 5 Graphic Design Programs We Can Help You to Apply to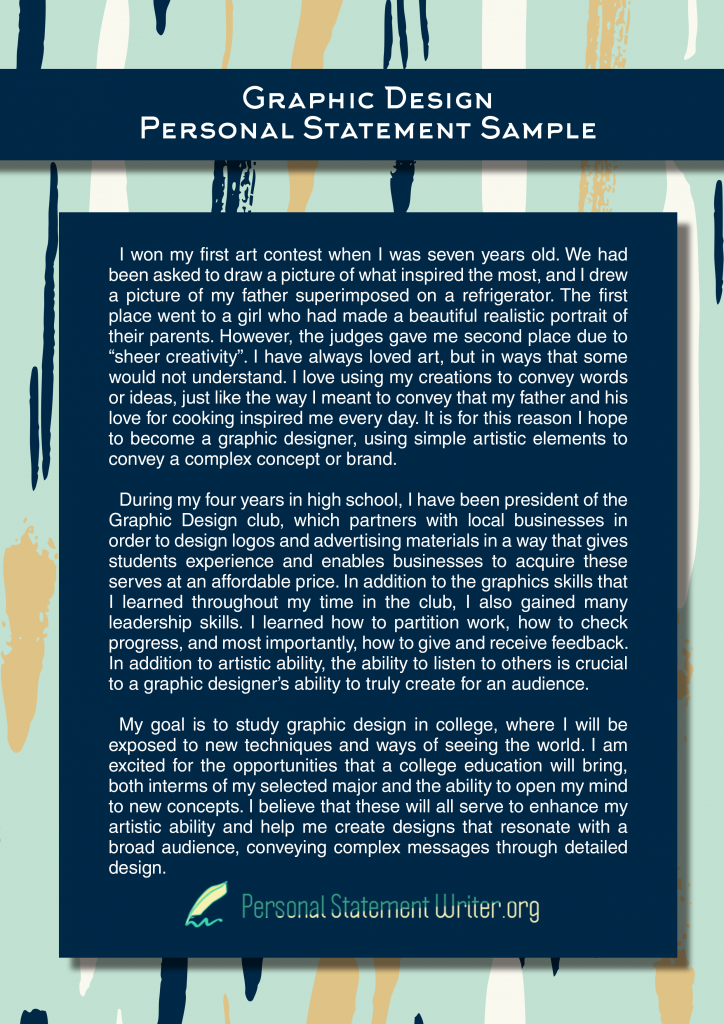 Our Experts Can Help with Your Personal Statement Writing
Writing a personal statement that will get you noticed is tough even if you follow our writing advice. One of the options you have is to use our highly specialized and very qualified services.
We employ over 200 highly qualified writers to work with our clients and this ensures that you will always get to work one on one with an expert that is:
Have a postgraduate degree relevant to your application
Very experienced with writing personal statements at this level
Fully understands exactly what the committee are looking for
Is a very fluent speaker of English
We Offer the Best Advantages
With many sites offering to write your personal statement for your graphic design application you will want to work with the service that is going to provide you with the very best services. Our experts are some of the very best and the following are just some of the advantages of using our services:
Direct communication with our personal statement writers
Unlimited revisions until you are fully satisfied
Plagiarism report to prove work is fully unique
Proofreading to the highest of academic writing standards
Highly affordable services that are fully confidential
Around the clock support available to all clients
Always on time delivery no matter how tight your deadline is
Full satisfaction or your money will be returned
So if you want to ensure that your graphic design personal statement is going to make you stand out from the others get the professional and specialized help that you can trust from our services here today.