How Important Is Your Forensic Psychology Personal Statement
Forensics fields are becoming more and more popular and as such demand far outstrips the number of places that are available. This means that you will be facing a lot of competition if you want to ensure that you win a place to study at one of the best schools for forensic science. To get that place, therefore, you will have to make sure that you have submitted a university application personal statement that is going to make you stand out.
The most important part of your application will often be your personal statement. Often there is very little between applicants when it comes to your grades and the other qualifications that you hold. So your personal statement will often be the only way to tell you apart. But writing that personal statements for psychology that is going to get you noticed for the right reasons is not easy. The committee potentially will read hundreds of statements that are going to be very similar and often make the same mistakes. So you need to ensure that your statement is different.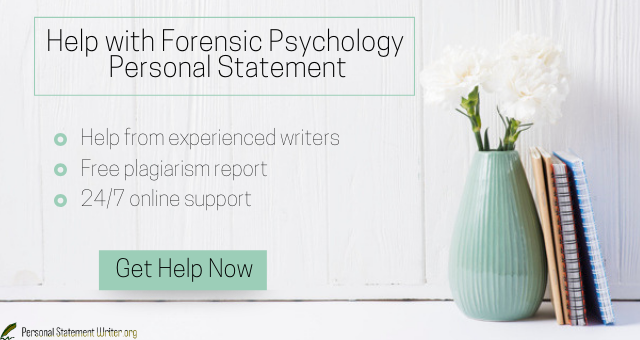 Writing the Best Forensic Investigation Personal Statement
Your forensic investigation or forensic computing personal statement not only needs to show that you are ideally suited to study their program it must also be written in a way that is going to make you stand out. This means not making the same mistakes that many of the other applicants are going to make. We can show you how to write your personal statement so that it will make a positive impression on those that read it.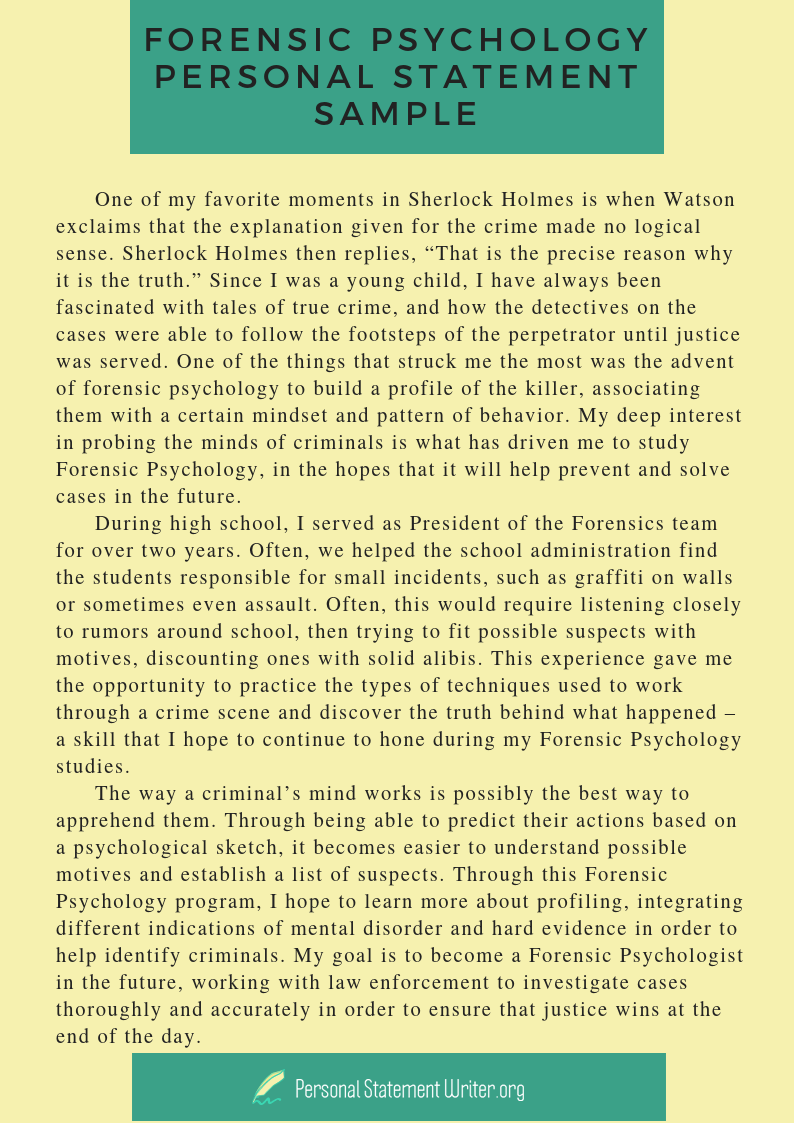 The following a few areas that you must ensure that you avoid when writing your personal statement:
"Ever since I was 6 years old I have…" never use any clichés within your writing. They will see them many times over and their immediate reaction will be to move onto the next statement in their pile.
Don't make obvious statements: "I know that I will learn a huge amount about…" You are wasting your word count and adding nothing to your application.
Don't open with a quotation: firstly they want to hear what you have to say not someone else.
Don't lose the reader in the first sentence: just like a news or magazine story you have to hook the reader in by providing them with an opening that is intriguing such as an interesting and related personal anecdote.
Don't make your statement read like a list of facts: it needs to flow like a story if you want to keep the attention of the reader.
Don't repeat your resume or any other part of your application: you are wasting your word count and losing their interest.
Don't use slang or acronyms: not every member of the committee will be able to understand them. Also, avoid trying to be clever by selecting unusual words from your thesaurus.
Don't tell them anything negative: they don't want to hear that you want to study forensics because you don't have the grades to get into law school. Approach everything from a positive angle.
Don't talk about anyone else: your personal statement should always be written about you.
Avoid the use of humor: not everyone will appreciate its use even if done well.
Never allow writing mistakes to slip through: always carefully proofread your writing so that there are no issues with it.
We Can Help with Your Personal Statement Forensic Science
No matter what field of forensics you want to study we have the expert help that you are looking for. Ours is a highly specialized service that provides clients with all of the help that they need to ensure that they can submit a personal statement for forensics that is going to make them stand out. Our experts hold relevant postgraduate degrees and fully understand exactly what the committee is expecting to see allowing them to provide you with highly effective support with your personal statement. All work through our professional college admission personal statement writers is carefully proofread and tested for plagiarism as well as being always delivered within your deadline.
So if you want a forensic psychology personal statement that is going to get you noticed simply contact our expert consultants today!